At Fieldhead Carr Primary School we love English!  We know that the skills involved in reading and writing are so important in every part of life and in shaping our children to be confident young adults when they leave school.  We create opportunities throughout our school day for our children to enjoy reading and writing using an exciting, cross-curricular curriculum that puts literature in all its forms at the heart of our learning.
English encompasses the following elements: Speaking and Listening, Phonics, Reading, Writing and SPAG (spelling, punctuation and grammar.) For more detailed information about Phonics and Speaking and Listening, see the separate pages on our website.
Learning to read is an exciting journey that takes our children from starting to learn phonics in Early Years to reading longer, more complex texts in year 6.  We equip our children with the necessary reading skills to achieve this. Our children read regularly to an adult in school to help their fluency and phonetic skills. The children work through our reading scheme which has a range of texts to not only support their personal reading level, but also to engage and inspire them.  Our classrooms have exciting reading areas for the children to access.
Reading Vipers
The children learn key comprehension skills in Key Stage 1 and Key Stage 2.  We use the VIPERS acronym to help us with this. Through these skills the children are able to confidently discuss and answer questions about a wide range of texts. At home you can also use the reading VIPERS to help you support your child's comprehension; in your child's reading record there are some VIPERS question prompts for you to use.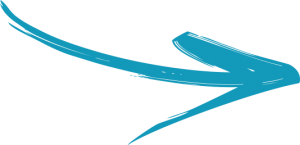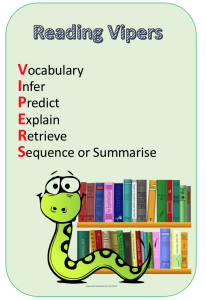 Download our recommended reading lists for each year groups. For more ideas on books to read with your children at home, please speak to your child's class teacher.
Throughout the academic year there are lots of exciting reading events happening in school, such as World Book Day, sponsored reads and sessions where parents can come into school and read with their children.
At Fieldhead Carr we write for a purpose; the children know why they are writing and can't wait to see their finished product! We base all our writing on a piece of literature or on a themed day or event.  The children write lots of different text types, including letters, newspaper articles, poems, stories and diary entries. The children edit their own writing before creating their finished piece. We follow the Penpals scheme for handwriting. Here are some examples of writing from year 4 and year 2.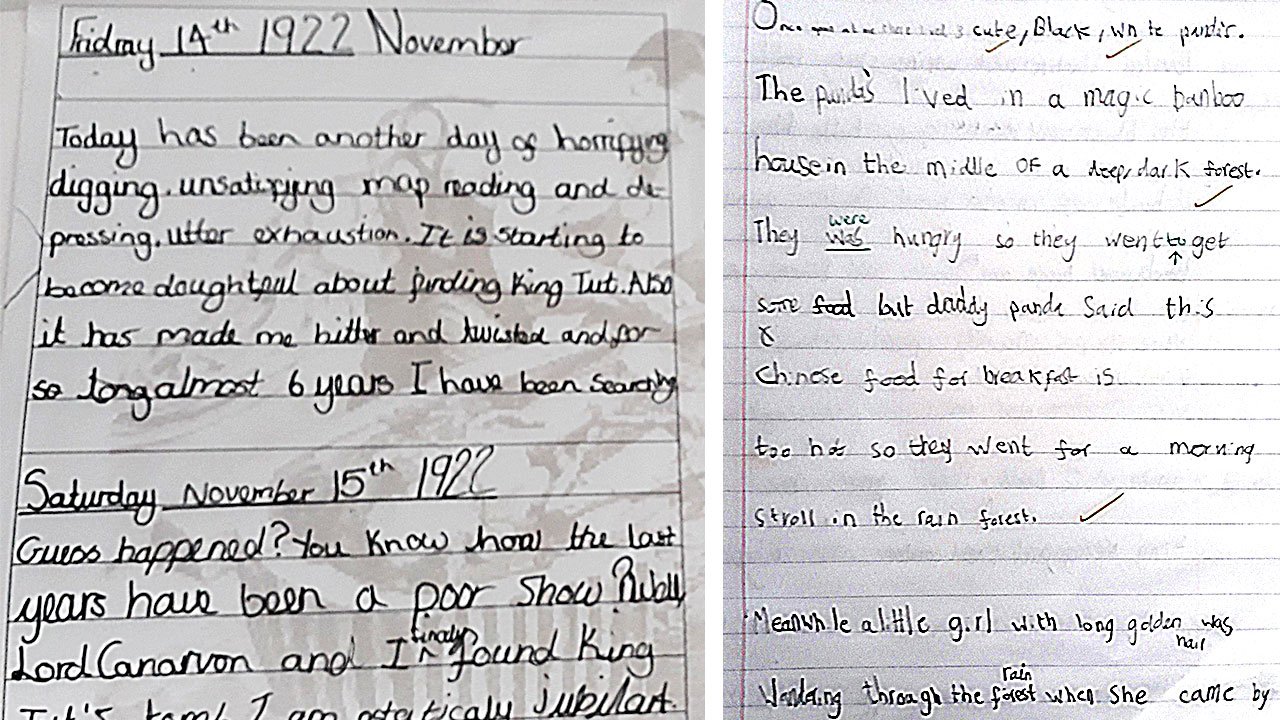 Spelling, Punctuation and Grammar
Spelling, Punctuation and Grammar underpins our writing and we teach SPAG to link closely to our writing.  We believe that the learning of and mastery of a high level of Standard English is vitally important to enable our children to have the best start to their educational journey.
Click below to see the grammar taught in each year group with an explanation of the terminology used in each year group.
The following links will show you the statutory word lists for years 1 and 2, 3 and 4 and 5 and 6.
As well as learning to spell the below words, we use Spelling Shed to support our teaching of the wider spelling curriculum.
Websites to support English learning at home: