FHC Remote Education Provision: information for parents
This information is intended to provide clarity and transparency to pupils and parents or carers about what to expect from remote education where national or local restrictions require entire cohorts (or bubbles) to remain at home.
For details of what to expect where individual pupils are self-isolating, please see the final section of this page.
The remote curriculum: what is taught to pupils at home

What should my child expect from immediate remote education in the first day or two of pupils being sent home?

During Jan 21 lockdown- All online learning was available from 4th Jan 2021- provision of 3 activities daily – mix of cross curricular provision. Active feedback from teacher throughout the day responding to children work submissions
In cases of self-isolation of individual children through family transmission cases- children will be provided with a 14 days learnig block on the day they are reported absent from school. This work is to be submitted through Seesaw/Taprestry in the normal way and will be marked and fed back on daily
Audit of children accessing online learning in week 1 (4th Jan) identifying children not accessing learning. Wellbeing calls made to all families. ICT support provided where this was the barrier to learning and places in provision allocated to those vulnerable because they are unable to access learning for a reason not related to ICT access
Following the first few days of remote education, will my child be taught broadly the same curriculum as they would if they were in school?

We teach the same curriculum remotely as we do in school wherever possible and appropriate. However, we have needed to make some adaptations in some subjects.
For example: PE provision taught using a mix of film clips and digital resources to allow children to use resourcing they may have at home. Therefore general skills are being taught rather than a sequence of skills progression in one sport as would usually happen in a school half term of PE
Remote teaching and study time each day

How long can I expect work set by the school to take my child each day?

We expect that remote education (including remote teaching and independent work) will take pupils broadly the following number of hours each day: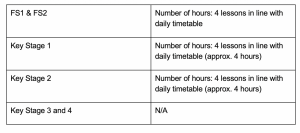 Accessing remote education

How will my child access any online remote education you are providing?

Please share the names of the online tools or digital platforms that you are using, either for delivery or for assessment.
FS1 & FS2 provision is delivered through Tapestry
KS1 & KS2 provision is delivered through Seesaw
If my child does not have digital or online access at home, how will you support them to access remote education?

We recognise that some pupils may not have suitable online access at home. We take the following approaches to support those pupils to access remote education:
Those children unable to access online learning have been audited for access to ICT and provided with laptop/internet sim if needed
We provide hard copy resourcing and physical resourcing to support children's learning where needed. Teachers will identify need as it arises in wellbeing calls and support parents in addressing access issues
How will my child be taught remotely?

FHC Online Learning Provision offers children learning opportunities that represent 50% new content through 'Live Lessons' and 50% practice and consolidation through 'Learning Activities'. This is a similar balance to the content they would get in class (as practice makes perfect- quite literally!)
Live lessons will use a range of resources. They may be clips made specifically for the session by my teachers with them modelling the work in the way they would do in class. Or they may choose to use some of the content produced by outside agency.
Teachers will use a range of resources to deliver daily learning. To make the distinction easier for parents to see we are splitting these into 2 categories:
Live lessons:
'School-Made' Film clips with teachers modelling learning followed by a task with feedback through seesaw in the normal way
KS2- zoom session (small group activity)
Activities using pre-made resources eg: BBC phonics, Oak Academy, BBC bitesize etc and then a task with follow up through seesaw in the normal way
Learning activities, eg:
Tasks set through seesaw with active marking feedback
Activities from class learning logs
TT Rockstars
Lexia
Oxford Owl
Phonics Play games
The balance of sessions will be different each day as some lessons in the sequence may call for a 'live lesson' and others would be better served by a learning activity. But during this period of lockdown, our offer will include 50% of daily content as 'Live lessons'. Teachers will plan for this in the same way they would if they were teaching in their normal classes.
Those children in Keyworker provision will be accessing the same learning in school as those accessing it online- content will be planned by the teacher and delivered using the same resources in the classrooms as are offered online, by the staff working in the bubble daily.
In making our plan we have had to ensure that provision is sustainable. My teachers are all delivering online learning whilst staffing 50% of their year group's keyworker bubble provision, making wellbeing calls and supporting children and families with issues as they arise.
It is our feeling that this offer is well balanced in terms of challenge and opportunity to consolidate and will allow all our children to make progress throughout the term and leave them in a strong position for returning back into school after the holidays.
Engagement and feedback
What are your expectations for my child's engagement and the support that we as parents and carers should provide at home?

Expectations for pupils' engagement with remote education:
We expect children to access online learning daily & submit learning for feedback once it is complete
We expect children to act on marking feedback in their personal feed to address mistakes and misconceptions
We expect children to engage with sessions for small groups where requested eg: KS2 zoom small group session
We expect children to engage with the weekly calls with teachers to discuss learning & wellbeing
Expectations of parental support, for example, setting routines to support your child's education:
We expect families to set a daily routine that takes into account all the factors impacting on family time daily eg: working from home, household chores, number of children needing individual support with learning
We expect families to support their children in uploading completed work for marking and feedback
We expect families to help with children's learning if there is something they get stuck on and ask for teacher help through hello@fieldheadcarr.leeds.sch.uk
We expect families to engage with the wellbeing calls weekly and be open and honest about 'how it's going' so that we can provide help and support as it is needed
How will you check whether my child is engaging with their work and how will I be informed if there are concerns?

How, and how often, you will check pupils' engagement with remote education:
Daily feedback on your child's seesaw feed- please check this once a day
Weekly calls with class teacher are an opportunity to discuss children's learning and to ask for help and support with any content you are unsure about
What action you take where engagement is a concern, including how you will inform parents and carers:
Call to identify barriers to learning. Once they have been identified we will work with you to identify ways to overcome them.
We have provision through our SLT, Inclusion Team, Teaching Team and Support Staff team that are able to help and support with learning issues. Should there be an issue that requires more 'in-depth' support, one of these teams will be allocated to support you
How will you assess my child's work and progress?

Feedback can take many forms and may not always mean extensive written comments for individual children. For example, whole-class feedback or quizzes marked automatically via digital platforms are also valid and effective methods, amongst many others. Our approach to feeding back on pupil work is as follows:
Our approach to feedback:
The methods you will use to assess and feedback on pupils' work:
Direct feedback on Seesaw/Tapestry daily
Discussion of learning weekly with the class teacher in wellbeing calls
Additional support for pupils with particular needs:
How will you work with me to help my child who needs additional support from adults at home to access remote education?

We recognise that some pupils, for example some pupils with special educational needs and disabilities (SEND), may not be able to access remote education without support from adults at home. We acknowledge the difficulties this may place on families, and we will work with parents and carers to support those pupils in the following ways:
In this section, please set out briefly:
How you work with families to deliver remote education for pupils with SEND:
Those children able to access online learning have been audited for access to ICT and provided with laptop/internet sim if needed
Those children unable to access online learning have been allocated a place in the vulnerable provision (this is a parent choice decision and we work with families to provide provision if they do not wish to send their child into school)
We provide hard copy resourcing and physical resourcing to support children's learning where needed eg: for children in KS1 or EYFS & verbal support from the classroom teacher or 1-1 support assistant on a more regular basis to support parents in delivering activities that meet individual need
Remote education for self-isolating pupils
Where individual pupils need to self-isolate but the majority of their peer group remains in school, how remote education is provided will likely differ from the approach for whole groups. This is due to the challenges of teaching pupils both at home and in school.
FHC offer:
Each class has produced a block of learning that can be undertaken by children when they are self-isolating with their families during normal school time.
If my child is not in school because they are self-isolating, how will their remote education differ from the approaches described above?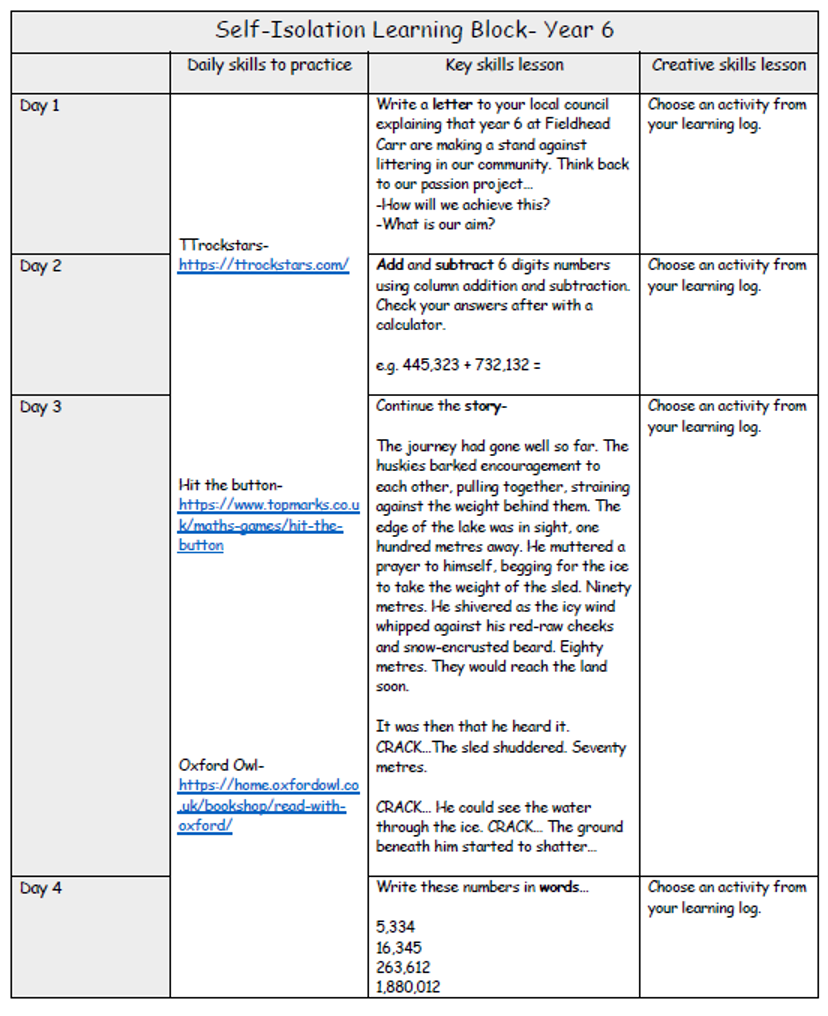 A sample of Yr6 plan (4 days of the 14 day block):
If your child is self-isolating due to a case of COVIID in the family during normal school time, they will work form the 14 day planning block and submit their learning through Seesaw/Tapestry in the usual way. They will receive daily feedback and a weekly wellbeing call in the usual way. However the content of the learning will not be linked to the learning undertaken in class as this would put undue burden on the class teacher in a time of normal school operation. Instead, your child will be supported through intervention on return to school to cover the missed content.
Each half term a class learning log is also created and added to class Seesaw and Tapestery accounts. These activities are also used for home work and are linked to the medium term plan for the half term. Children are directed to access this learning as part of the 14 day block.